Learn more about 2D4D Pharma
Philippe Grit is the founder and the CEO of the consulting company, 2D4D Pharma and serves on its Board of Directors. 
Before the creation of 2D4D Pharma in 2016, Philippe Grit had various decision-making positions in international pharmaceutical corporates.
He was the Head of Corporate Supply Chain in Besins HealthCare, where he was in charge of all supply chain operations for 100 countries. 
Prior joining Besins HealthCare, he was a Key Account Manager in Delpharm, an European leading Contract Development and Manufacturing Organization.
There, he played a key role in the development of the firm's strategy and the development of long-term relationships with customers. After 10 years in operation, Philippe has meticulously grown the business and the industrial capabilities of the pharmaceutical contract manufacturer.
Previous, Philippe was an Oncology Project Manager for Schering SA, and was responsible for the development and the production for the European and the American market.
Before his work in Schering SA, Philippe spent 4 years with LFB Biomanufacturing as a Production Manager, where he led the manufacturing of the Lille's site.
Former, he was Validation Manager for Procter & Gamble, with the duty of equipment, utilities, process and cleaning qualifications. 
Philippe earned a Doctor in Pharmacy, and a D.E.S.S in Pharmacy, an additional diploma in Quality and Biotechnology, from the University of Angers, in France.
His 26 years of experience in the pharmaceutical and biotechnological industry gave to Philippe, the ability to understand the pharmaceutical ecosystem with an expert point of view. 
Over the years he developed his entrepreneurship spirit, his skills in business development, project management, networking and problem solving skills, both in industrial matters and business. 
Sense of Endeavour
From the offer to the final deliverables, Endeavour is part of every step
Respect
Being Committed and Respectful of partners' and clients' trust
Duty
Confidentiality, Transparency and Loyalty when doing business
About 2D4D's Logo
2D4D Pharma wanted a simple and memorable logo. It needed to fit 2D4D's core values and mind set. We chose the owl  for it's discreet yet attentive attitude. In Greek mythology the owl is the emblem with Athena, goddess of war, medicine, strategy and wisdom. Therefore, the owl embodies both 2D4D industry and attitude.
Its original design connects number 2 and number 4 which are part of the company's name. On the right side of the logo, a letter φ, standing for pharmacy also appears. All of these elements connect to form 2D4D's signature logo.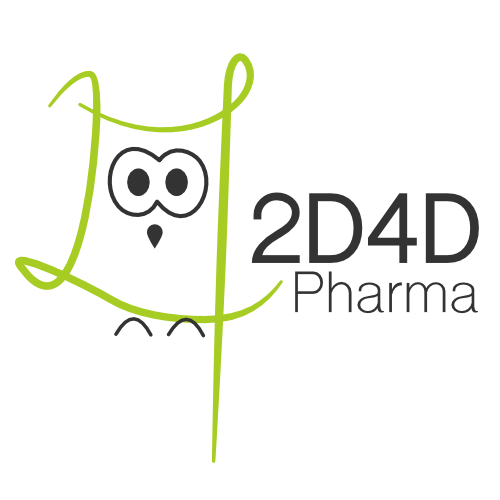 2D4D Pharma is part of the Pharma Licensing Club France